Lochie's 2021 challenge raised $11,017 over six weeks to help support people affected by cancer across New Zealand, and now he is supporting Daffodil Day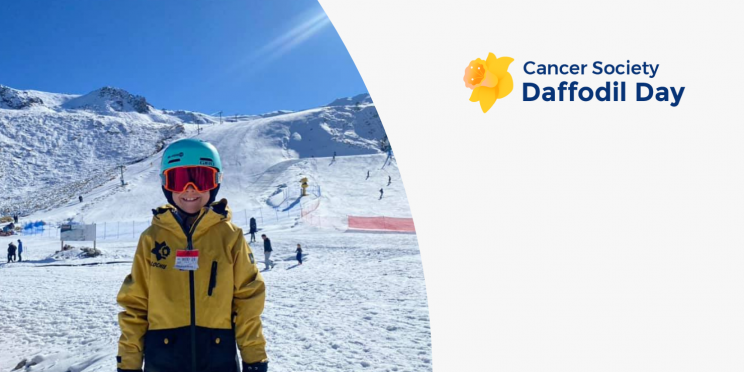 Lochie's Ski Challenges
Last year, Lochie (6 years old) skied at Cardrona Alpine Resort for 40 days to celebrate Cardrona's 40th birthday. Also, he set himself the challenge to raise money for the Cancer Society of New Zealand, for which he raised over $10,000.
He decided to do this because when Lochie was 4, his mum Rebecca was diagnosed with a rare type of cancer, and the people from the Cancer Society came out to visit and helped his family through this time.
Lochie is such a kind and caring kid, and when his dad Luke asked him who he wanted to fundraise for, the Cancer Society was the first organisation Lochie suggested. The story of how the whole idea came about is a very cool one. Last year, he gained Nationwide coverage from Newshub, newspapers, and then a large number of social media posts from different companies, Toyota NZ and Hino Trucks to name a few.
Well, this year he is 7 years old and has come up with a bigger challenge - to ski the length of New Zealand covering all the ski fields South to North. All the while, he raised money for the Cancer Society.
This year's ski adventure raised even more awareness nationwide, including appearances on TVNZ's Seven Sharp, Newshub's The AM Show, and many local radio stations and media outlets across the nation.
Lochie wanted to show New Zealand a story of how even with all the day-to-day madness we go through as people, If we each take the time to do something for others we have never met, it might just show to others the Kiwi spirit is still alive and well.
Luke and Lochie travelled the good old-fashioned Kiwi way, camping out in their caravan. They set up in each base town to then cover each ski field as they travelled north. Lochie is really grateful for all the help along the way of this massive challenge.
Lochie's 2021 challenge raised $11,017 over six weeks to help support people affected by cancer across New Zealand, and now he is supporting Daffodil Day...
Lochie asks you to help the Cancer Society this Daffodil Day
Video Link: https://www.youtube.com/embed/htg--U4ExXI?autoplay=0&modestbranding=1&rel=0
Daffodil Day Donations
While Lochie's ski adventure has come to an end this year, you can still support his cause. Daffodil Day symbolises hope for Lochie's family and all New Zealanders impacted by cancer. For 31 years, this iconic event has inspired people to come together and support the Cancer Society's work.
Donations can be made at daffodilday.org.nz – please give generously this year.
Supporting Daffodil House
This year Lochie has been doing a lot of thinking on what he would like the funds to go towards, and in the true style of how Lochie thinks about things, he has come up with the idea to fundraise to buy new equipment that is needed at all the Daffodil Houses.