Find out more about the Waikato Bay of Plenty Division of the Cancer Society.
Cancer Society Waikato Bay of Plenty Division
Annual Reports and Financial Statements
2020/2021
2019/2020
2018/2019

2017/2018

2016/2017
2015/2016
Meet our Board
Our Board members come from a range of backgrounds and bring a variety of skills, knowledge and experience to the Waikato/Bay of Plenty Cancer Society. They live across the region, and volunteer their time and expertise to support the Cancer Society.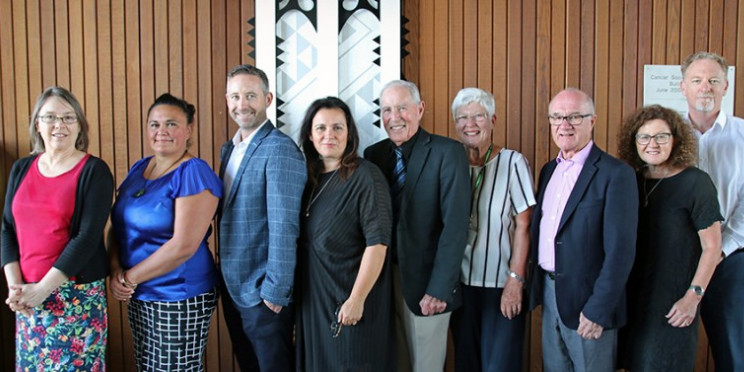 Jim Primrose (Chair)
Jim has extensive experience in leading and contributing to change in the New Zealand primary health sector. For 15 years he was a general practitioner based in Hamilton and then held a number of senior health management roles before being appointed a Chief Advisor with the Ministry of Health - a position he held for eleven years.
Jim has consulted internationally on health care and represented New Zealand at World Health Organisation conferences. He has also held a number of health governance roles and provides consultancy/advisory services to several New Zealand District Health Boards. He is a member of the Institute of Directors.
---
Maurice Gianotti
(BA, MPP, Dip Ed, Dip Teaching, NZTCC, Member of NZ Order of Merit, 1990 Commemoration Medal)
Maurice retired to Taupo following an extensive career in the public service where his roles included chief executive of the Education Review Office (ERO), assistant state services commissioner, deputy head of the Parliamentary Service and founding complaints investigator of the Accident Compensation Scheme.
Maurice has recently held the chairmanship of the Lake Taupo Hospice Trust and the Taupo Primary School Board of Trustees. He is currently a Health Consumer Service associate and member of Pharmac's Consumer Advisory Committee. Maurice joined the Waikato/Bay of Plenty Cancer Society executive committee in 2012.
---
Sally Powdrell (LLB Hons)
Sally graduated with a law degree from Auckland University. After initially practicing in Auckland, Sally moved to Tauranga in 1982 and joined the legal firm Cooney Lees Morgan. She has been a partner of that firm since 1986. Sally has been advising entities operating in the primary health sector for over 20 years and it is an area of practice of particular interest to her. Sally joined the Waikato/Bay of Plenty Division Cancer Society Executive in 2014.
---
Ellyn Proffit
Originally from the East Coast, Ellyn trained and now resides in the Waikato. For the past 11 years she has worked as a clinical nurse specialist supporting 12 – 24 year olds with cancer in the Midland region. Prior to this, she was a registered nurse in Waikato Hospital children's surgical/oncology ward, with the added role of shared care nurse which involved provision of clinical care, education and support to children aged 0 - 16 years of age and their whanau navigating a cancer diagnosis. Ellyn is also on the governance group for the Adolescent and Young Adult Cancer Network Aotearoa and has been an avid volunteer nurse for Camp Quality for nearly 20 years and CanTeen for a number of years.
---
Kim Richards
Kim is a Commercial Relationship Manager with ANZ. His 36 years' experience in finance - the majority spent in a banking commercial relationship management role - gives him a broad knowledge across an extensive range of business models and industries. Working in the Waikato for the bulk of his career means he is well connected with region and its people. Kim joined the executive committee in 2017 and is enjoying the opportunity to be part of the huge team of volunteers for the Waikato/Bay of Plenty division of the Cancer Society.
---
Ruth Ross
A Waikato resident, Ruth has a background in human resources and health and safety management. Ruth has felt the impact of cancer on both of her parents. As such, she is a passionate supporter of the Cancer Society and is interested in ensuring the society is positioned to continue to provide services that are relevant for the community into the future. Ruth currently works for the Waikato District Health Board in human resources, and for HealthShare Limited in a regional health workforce planning and development position.
---
Matt White
Matt is a partner at PwC and leads the Waikato Assurance practice. After graduating from Waikato University he joined PwC in Auckland and subsequently worked with PwC in Indonesia, Switzerland and Papua New Guinea before returning home to Hamilton.
---
Karen Bennett
From a background in journalism and public affairs, Karen has extensive experience in the private and public sectors, including health and local government in New Zealand and Australia. She has run her own management consultancy and worked in-house for large organisations communicating business strategy, enhancing stakeholder relationships and managing risk. She is currently Manager of the CE's Office at Waikato Regional Council with responsibility for legal and risk, corporate sustainability and supporting stakeholder relationships and strategy. She has particular interest in forging partnerships and collaborations that aim to improve the environmental, social, cultural and economic determinants of health.
---
Shelley Campbell (Waikato/Bay of Plenty Cancer Society chief executive)
With over 20 years experience working in health, Shelley has received a Blake Leadership Award for her work in primary care and in 2017 was awarded an MNZM for her work in the health and disability sector.
Prior to returning to Waikato to take up the role of CEO at the Waikato/Bay of Plenty Cancer Society, Shelley was the CEO of Sir Peter Blake Trust and responsible for implementing its leadership development and environmental programmes throughout the country. Overseeing 1,000 leadership events annually, Shelley's work with young New Zealanders saw her on expedition from the Kermadecs to Antarctica and receive the rank of Honorary Captain with the Royal NZ Navy.
Last updated: September 21, 2021