We couldn't have done this without you!
Cancer can be heart-breaking and isolating, but perhaps never more so than the last two years since Covid-19 entered our lives.
Added uncertainty, fears and missing out on simple but important things like having family and friends pop by for a hug and support, has meant more New Zealanders than ever continue to reach out for our help.
Thanks to you we know they don't need to face cancer alone.
Your support continues to keep us running – free expert nursing advice, free counselling, free accommodation for those who live far from treatment – a wrap-around of emotional and practical support when it's so desperately needed. You've also continued to help fund world-class, ground-breaking research and vital prevention programmes to protect our children and grandchildren.
Thank you so much from the bottom of our hearts!
We couldn't have done it without you!
In the past year you've made this possible:
Over 58,000 support calls for people affected by cancer
Over 5,000 face-to-face staff visits to cancer patients
Almost 2,000 counselling sessions for patients and their whānau
Over 50,000 nights stay in our accommodation by patients needing treatment
Over 874,000 kms driven by volunteer drivers taking patients to treatment
Colleen's story
Cancer patients like Colleen are so grateful for your support. The young mum was going through IVF when she discovered she had endometrial cancer. But there was still more to come. She told us;
"We lost my dad after my first surgery. There were lots of big things happening. I have cancer. I can't have more children and my dad is dying. Cancer on its own was hard enough."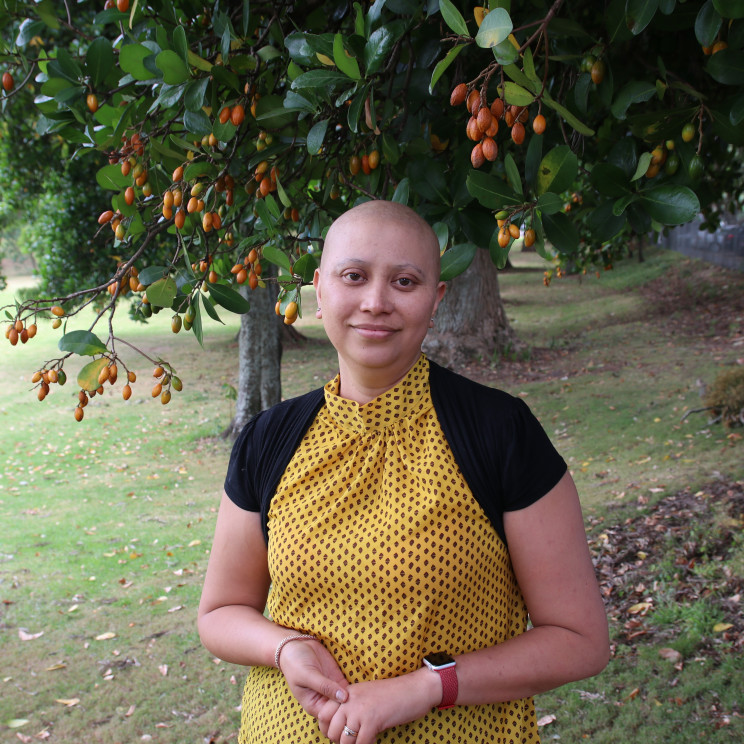 For many people diagnosed with cancer, there's an inkling in the beginning that something's not right. But that wasn't the case for 37-year-old Colleen.
"We were having fertility treatment. I found out I had endometrial cancer when we were called to come in for test results.
"It was just devastating. I heard the word cancer and I thought gosh, I'm so young. I've got a family. How did this happen?"
The busy mum and full-time office manager struggled with the news. Decisions were made quickly, especially after it was discovered her cancer had progressed further than first thought.
"I found it very difficult to comprehend what was happening at the beginning"
On the advice of her nurse at the hospital, Colleen reached out to the Cancer Society and connected with nurse Tammy. Tammy was able to talk through Colleen's options and help her feel more in control of her treatment.
"Tammy made me feel comfortable. She came to my house - and that for me is a safe zone. She was someone I could talk to about anything, and not just about cancer, not just about my diagnosis.
"The pain, the niggles, the what-ifs. When you're with your doctor sometimes there's so much information and because you're in shock you can't remember it all."
Tammy was also able to connect Colleen with online groups where she could talk with other young women going through similar experiences.
With her dad also facing health difficulties, Colleen says it wasn't always easy to talk frankly with family about what she was going through, so having someone else to talk to was invaluable.
"Telling my Mum and Dad I had cancer was one of the hardest things I had to do.
"I didn't want to worry my family any more than they already were. So being able to talk through things with someone who's not family was so helpful.
"The waiting is so tough. When you're going through treatment, there's a lot of waiting. Your mind can take you to dark places. Talking with Tammy helped me cope."
One thing Colleen says she's learned is that it's important to reach out with both hands and grab whatever support you can.
"We lost my dad just after my first surgery. For me there were lots of big things happening. I have cancer. I can't have more children and my dad is dying. Cancer on its own was hard enough to hear.
After eight months of surgery, radiation therapy and chemotherapy, Colleen finished treatment.
"I definitely appreciate every day. Sometimes it's the small things - my daughter's smile, my husband making a joke - those are the things that I watch more closely for now and appreciate."
Thank you so much for your ongoing support for New Zealanders like Colleen - you are making such a difference to the lives of people affected by cancer.
Last updated: April 11, 2022