Betty's volunteering record with the Cancer Society began a couple of years before 22 August 1990, the date of the very first Daffodil Day in New Zealand.
Betty was born in Cairo, Egypt, where her father was serving in the British Army, attached to the Egyptian Government.
Being the daughter of a serviceman, Betty was very used to moving around as a child and it was no wonder then that she married a man whose job also kept him and the family moving.
Betty developed an interest in dancing and gained medals for Jive, Latin American and gold for ballroom dancing.
Betty trained as a radiographer at the Royal Bucks Hospital in Aylesbury, England. Betty married her husband, Alan, at St Pauls Church in London on 1st April 1961. Betty tells me that it was St Paul's Church (not the famous St Paul's Cathedral), and they got married after midday, so as not to be "April Fools".
Alan worked for the Post Office, installing telephones. Being a skilled telephone technician, Alan initially tried to emigrate to New Zealand but at that time, the Post Office only wanted single, not married men! Instead he applied for a transfer to Australia, where he and Betty had their first child.
They really wanted to move to the country but were denied a transfer so asked around for somewhere suitable in New Zealand. 8 out of 10 people they spoke to recommended Whangarei and their application was duly accepted by the NZ Post Office.
Once here they settled in Northland and were transferred to several other towns before eventually moving south and making their home in Lower Hutt. After all their travels and moves, it was a surprise then to learn that Betty has lived in her current home in Lower Hutt since 1975.
With three children to look after and no family on hand to help, there was no way Betty could return to work as a radiographer so got involved with volunteering in a big way. Joining Play Centre, Betty attained her Mother Helper, Play Centre Assistant, Supervisor and National Supervisor Certificates.
Plunket and various school groups also benefitted from her great organisational skills. Together Betty and Alan joined various theatre groups too.
Betty's volunteering record with the Cancer Society began a couple of years before 22 August 1990, the date of the very first Daffodil Day in New Zealand.
Some of Betty's Daffodil Day memorabilia and photos from past Daffodil Days.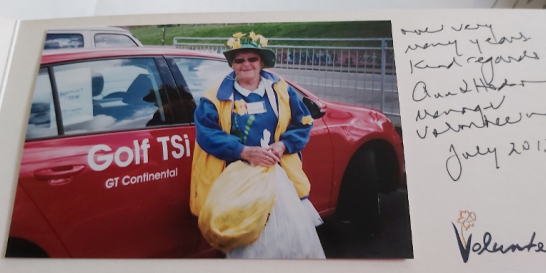 Getting involved was in both Betty's and Alan's blood. Alan was made redundant in his 50's and soon after they both became Volunteer Drivers for the Cancer Society. After a year, they were asked if they would take on the additional role of Volunteer Driving Coordinators for the Lower Hutt area.
However, a year later they were asked to become Volunteer Area Coordinators for Daffodil Day and it was Daffodil Day that became a passion for them both.
Betty started her Daffodil Day preparations in March, visiting clubs and various committees asking them to collect at a site. Eventually the clubs got back to her saying that they were able to provide collectors to cover the spot for the day. Betty made her own roster, researched collection spots, and, for each area, recruited her own collectors to collect on the streets and supermarkets around Lower Hutt and Petone. She and Alan coordinated collectors for each Lower Hutt suburb as far north as Stokes Valley right down to Petone, as well as the supermarkets.
To research an area, Betty and Alan would sit for hours in their car counting the numbers of passers-by to see if a spot was worth collecting at. As most of their collectors were elderly, they would hunt at garage sales for tables and chairs that they could set up at each collection spot so that all their collectors could sit down. Betty had continued support from the Lions and other clubs around Lower Hutt who all wanted to return each year.
In the old Queensgate there were collectors at each end of the Mall and Betty remembers having trouble getting the collectors to finish their shift at the end of the day – they just wanted to carry on for longer! Betty remembers with a chuckle that one year they ran out of daffodils so they raided a daffodil display that was mounted on the wall in the Mall so that they could have more daffodils to sell.
On 5 December 2013 at Cancer Society's International Volunteer Day function, Betty received a Gift of Time award for 25 Years Exceptional Service and part of the citation read:
Betty, together with late husband, Alan, are synonymous with Daffodil Day in the Hutt Valley. They embraced this special event from the outset and were known, informally, as 'Mr and Mrs Daffodil Day.
When Alan died 11 years ago, Betty carried on doing the Hutt and Petone for a year until she realised it was too much for her on her own. Since then Betty has just concentrated on the northern suburbs of the Hutt, and her favourite areas of Naenae, Taita and Stokes Valley. Betty has teams from each area who help her each year. "What a great way to meet wonderful people is the way I think of this."
In 2018 at the International Volunteer Day celebration, it was our pleasure to award Betty with a certificate to mark 30 Years of Lifetime Service to the Cancer Society.
This year, Betty was supposed to be taking it easy after a spell in hospital earlier in the year laid her low for a few months. However, where there's a will there's a way, and it was just too hard for Betty to resist getting involved on Daffodil Day's 30th Anniversary!
In July I got a call from Betty to say that she had organised for a couple of people to stand in for her so the collections in Naenae, Taita and Stokes Valley could go ahead as usual.
She assured me that she wasn't going to do any work, but could she please have half a dozen collection boxes, bears, baskets, buckets and several bags of daffodils! As she couldn't drive anymore, Betty got a friend to help deliver the collection boxes to her usual dairies, libraries, schools etc. The calls kept coming for more bears please, and could she just have a few more…
Selfless and dedicated, Betty was determined to be part of Daffodil Day's 30th Anniversary.
Betty has an amazing collection of Daffodil Day memorabilia, including jewellery, pins and badges collected during the last 30 years. As it was much too cold for Betty to be out this year, she let me wear her earrings and matching pin from the very first Daffodil Day, 30 years ago. They are still in mint condition and it was an honour to wear them for her.
Thank you, Betty, for allowing me to share your Daffodil Day story and for 30 years of lifetime service and dedication to Daffodil Day. Your devotion to the Cancer Society and to Daffodil Day is inspirational and an outstanding example of what volunteering is all about!