The treatment offered will depend on the type and stage of lung cancer, as well as your general health.
How is lung cancer treated?
Lung cancer can be treated with:
surgery
chemotherapy
radiation treatment
targeted therapies
If you currently smoke tobacco, your treatment team will ask you to stop before your treatment begins.
You can ask for support from your treatment team and they will put you in contact with a local Stop Smoking Service provider.
Before any treatment begins, make sure that you have discussed and understood your treatment team's advice. You may ask for a second opinion if you want one.
Ka taea ēnei momo maimoatanga te whakamahi takitahi, te whakamahi ngātahi rānei.
Ko te Hāparapara ki te tango i te matepukupuku te huarahi pai rawa atu hei whakaora i te nuinga e whai ana i te wāhanga-tōmua o te matepukupuku pūkahukahu.
He maimoa matepukupuku te Iraruke mā te patu i ngā pūtau matepukupuku pūkahukahu. He pai tonu mō te maimoa i te matepukupuku pūkahukahu kāore anō i puta ki waho o te poho. He nui tonu ngā wā ka whakamahia ngātahi me te mahi hahau. Ka taea hoki te whakamahi hei maimoa i ngā tohumate pērā ki ngā mamae ka pā ki ētahi atu wāhi o te tinana nā te matepukupuku pūkahukahu.
Ko te mahi Hahau, he maimoa matepukupuku mā te whakamahi i ngā rongoā patu matepukupuku (cytotoxic). Ka taea te whakamahi takitahi, te mahi ngātahi me te hāparapara, te iraruke me ngā Haumanu hāngai pū.
Ko te Haumanu Hāngai Pū tētahi momo maimoatanga hou, mōhiotia anō hoki hei haumanu koiora. He whāinga hāngai te mahi a ia o ngā haumanu hāngai pū, ka whakararu i te āheinga o ngā pūtau matepukupuku ki te tipu, ki te whakarau, ki te whakatikatika, ki te hono rānei ki ētahi pūtau matepukupuku. E wātea ana te haumanu hāngai pū mō te iti noa iho o ētahi momo matepukupuku pūkahukahu.
Whakamahia ai ngā Haumanu Tautoko i te taha o ngā maimoatanga hōhipera (pērā ki te romiromi me te whakamanatu).
Tērā pea ka kōrero tō rata ki a koe mō te whakauru ki tētahi whakamātautau haumanu. Tērā pea māu tonu e pātai mehemea he whakamātautau haumanu mō tōu ake momo matepukupuku.
He maimoa āwhina i te kounga oranga i te wā katoa o tō matepukupuku pūkahukahu te Atawhai Taurima me te Atawhai Tautoko, i te wā kua kore pea e ora anō.
Ka taea e tō rata kāinga, tō rata hōhipera, tō tapuhi rānei, te tohu i a koe ki te ratonga atawhai taurima, a, mā ngā kapa mātanga atawhai taurima e whakamahere tō atawhai ki te taha I a koe, me te kōrero ki tō rata kāinga me te ka pa atawhai pūkengamaha.
You will be cared for by a range of health professionals. Each person focuses on a different part of your treatment. Working with you, the team will develop a treatment plan that offers you the best care.
You may have different doctors on your treatment team, depending on the stage of your cancer and your treatment options.
Your cancer care team is likely to include:
Respiratory physician: a doctor who focuses on diseases of the lungs and respiratory tract. They help to diagnose and stage cancer and improve breathing.
Cardiothoracic (chest) surgeon: does some diagnostic tests and does any surgery to remove cancer from the lung.
Pathologist: analyses samples of body tissue or fluids to help with diagnosing and staging lung cancer.
Medical oncologist: a doctor who specialises in cancer treatment using medications (drugs). They are responsible for prescribing any chemotherapy and other treatment options such as targeted therapies.
Radiation oncologist: a doctor specialising in cancer treatment who arranges, prescribes, plans and supervises any course of radiation treatment.
Radiologist: uses diagnostic imaging methods to see inside the body (for example, CT scans).
Cancer nurses and care coordinators: give nursing care and information to support you throughout your treatment.
Palliative care doctors and nurses: work closely with your family/whānau doctor (GP) and cancer doctors to provide supportive and palliative care so you can cope better with the effects of cancer at home and in hospital.
Physiotherapist: helps treat your body so you can cope with the physical effects caused by lung cancer, surgery and treatment side effects.
Occupational therapist: helps you with everyday tasks like bathing, dressing and cooking.
Social worker: provides support and information about emotional and practical problems such as employment issues, money problems, home help and childcare.
Pharmacist: gives advice on medication.
Dietitian: gives advice on food and eating well.
Family/whānau doctor (GP): responsible for your general health and referral for specialist treatment.
Surgery for lung cancer
The three main types of surgery for lung cancer are:
Lobectomy
A lobe of the lung is removed.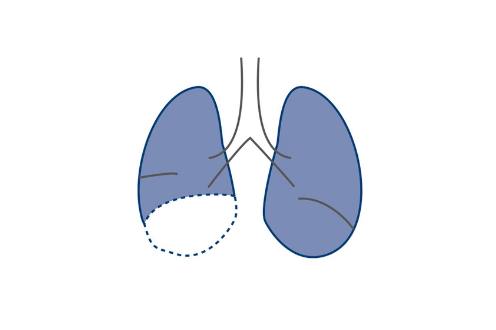 Pneumonectomy
Surgery where one whole lung is removed.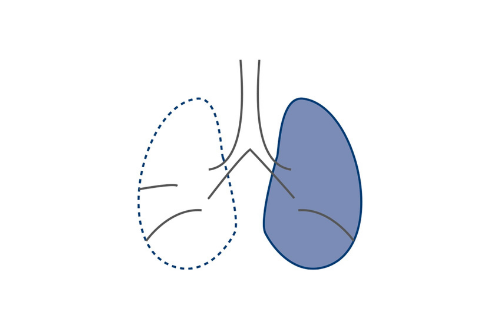 Wedge resection
Surgery where only part of the lung, not a lobe, is removed.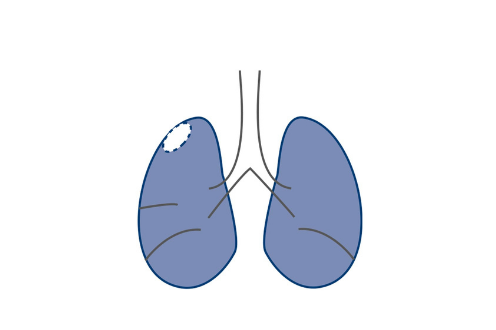 You will probably go home four to ten days after the operation but you will still be recovering for about six weeks. The recovery time depends on the type of operation and your fitness.
Many patients who have had part of their lung removed feel some breathlessness. A nurse or a physiotherapist will help you with breathing exercises to prevent chest infections or other complications. You will have regular chest X-rays to check on your lung.
You will have some pain and discomfort but your treatment team will work with you to reduce these effects.
The physio regularly came to help me get out of bed after my surgery. Eventually, the physio walked me around the room. By the end of the last day in hospital, I could walk around the room myself.

Ted
Chemotherapy for lung cancer
Chemotherapy uses medications to kill cancer cells while doing the least possible damage to normal cells.
Chemotherapy may be used for lung cancer:
before surgery to shrink the cancer

at the same time as radiation treatment

after surgery to reduce the risk of cancer coming back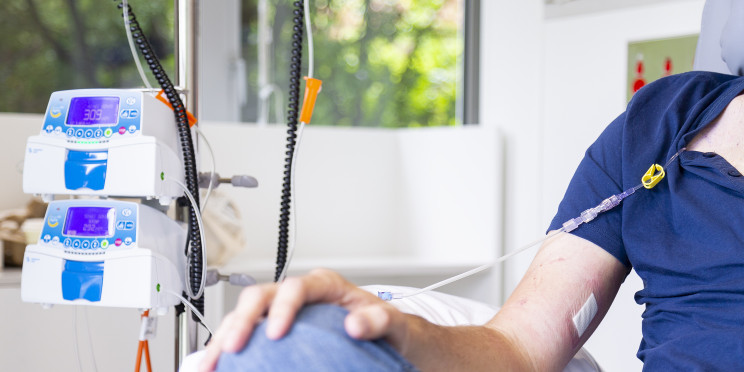 Targeted treatment for lung cancer
Some drugs can 'turn off' cancer cells and stop them from growing and spreading.
These are called targeted treatments because they target damaged genes or proteins of the cancer cells.
You will be offered targeted treatment if your test results show the cancer cells will respond to it.
Radiation for lung cancer
Radiation treatment is the use of radiation beams to destroy cancer cells or slow their growth.
It is usually recommended to treat lung cancer that has not spread outside the chest.
For advanced lung cancer that has spread to other parts of your body, radiation treatment can be used to treat symptoms and improve your life quality.
For small cell lung cancer (SCLC), radiation treatment to the brain is often used as a preventative treatment known as prophylactic cranial irradiation (PCI).
Side effects of lung cancer treatment
Lung cancer treatment can cause temporary and on-going side effects.
Common side effects when you have radiation, chemotherapy and targeted therapy treatments include:
the blood and immune system (such as anaemia (low red blood cells) and infections)
fatigue (extreme tiredness)
feeling ill and vomiting
constipation
diarrhoea
itchy and dry skin
If you develop a fever (a temperature is 38 degrees or over) or you feel unwell, even with a normal temperature, don't wait to see what happens – take action quickly.
Contact your local hospital and follow the advice given.
Palliative care
Palliative care aims to improve your quality of life. It is not just about end of life care.
Palliative care will help:
you to enjoy the best quality of life you can for as long as possible
make sure that your physical, practical, emotional and spiritual needs are looked after as well as possible
manage symptoms of your cancer
manage side effects of treatment
help you to feel in control of your situation
make your time as positive as it can be for you and your family/whānau
Speak with your treatment team about palliative care options for you and your family/whānau.
Using complementary or traditional healing
Sometimes people with cancer might think about using complementary therapies or traditional healing.
Some alternative, complementary and traditional healing methods may react with the treatment you receive and cause harmful side-effects.
It is important to talk to your treatment team about any other therapies you're using or thinking about because they may interfere with hospital treatment.
Life after cancer treatment
After you finish treatment for cancer, give yourself time to adjust to the physical and emotional changes. We are still here to support you after your treatment finishes.
You will need regular check-ups with your treatment team. These may include some blood tests or physical examinations. Speak with your treatment team about the plan for you.
Need someone to talk to?
We know that going through cancer is tough and can raise many questions. You are not alone.

We have nurses and counsellors to answer your questions and provide the support you need. Get in touch
Last updated: July 1, 2021