When people must face the unthinkable, we will be there for them.


Catherine from the Cancer Society was there for Chris, providing timely and appropriate support.
Will you donate today so everyone with any type of cancer gets the support they need?
It's always sad to hear stories like Chris's. He first presented to the doctors with persistent stomach pain, which continued for over a year, with no real answers. 14 months on, a CT scan revealed that his stomach pain was caused by a cancerous tumour.
"Being told that I had cancer, that was really hard to take. My head was spinning - I was in denial – I rang my daughter and her partner, and they came down to support me," says Chris.
After navigating 16 weeks of chemotherapy and six weeks of radiation, he nearly gave up. Chris needed someone to talk to that understood what he was facing.
Chris anxiously reached out to the Cancer Society, where he met Catherine from the Supportive Care team. She provided timely and appropriate support to Chris, which he found "unbelievable".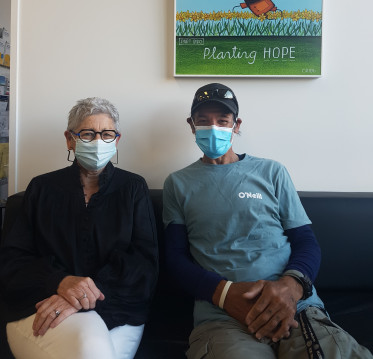 Cancer is one of the leading causes of death in Aotearoa New Zealand, and not everyone has the same odds of getting cancer and surviving it. It comes down to factors like age, sex, ethnicity and socio-economic status.
The Māori Cancer Leadership Network published a report in 2020, which showed that Māori are more likely to get cancer, are more likely to get it younger and are much more likely to die from cancer when compared to non-Māori. In addition, stomach cancer is more common in males and Māori and Pasifika people, so the odds were really stacked against Chris.
With a donation today, you'll provide practical and appropriate support to people just like Chris, and anyone who needs us.
Sadly, after 18 months of recovery, Chris's cancer has returned and it's more aggressive this time around. Chris has kept in regular contact with Catherine over the last two years, and he has reached out to our team for further support for the months ahead.
"It's not looking good; the doctors have said that there isn't much they can do. But I plan to keep fighting for as long as I can," he says.
Will you donate to enable skilled workers like Catherine, to provide effective support and care to people like Chris.