Every day I made a conscious decision to be grateful for what I could in my life, to pray and hope for the best (putting what was not in my control into the big mans hands) and to look forward to a future that wasn't always focussed on my sickness.

Stacey Mulgrew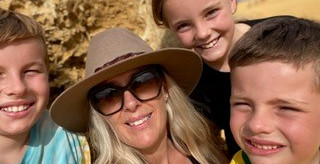 Barefoot Kiwis turning around cancer
Yesterday we explored a sealion colony off the west coast of Australia (whilst camped in the sand dunes on an isolated white sand beach) and the day before that we wandered through pinnacles in a desert scape in balmy 32 degree weather.
I pinch myself because it's a far cry from the deep dark hole I found myself in last September when I was diagnosed with Stage 3 bowel cancer.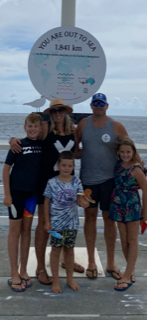 We had been due to fly out on this indeterminate length adventure when lockdown had hit. Once our lockdown lifted we discovered that WA had closed the borders to NZ and while I was awaiting the opportunity to get there, had a routine colonoscopy. WHAM – we were hit with the deeply disturbing news that I had Stage 3 bowel cancer: 2 significantly sized tumours (8 & 10cm) in my large colon and would need immediate surgery.
The next 6 months was a harrowing journey of immunomodulator drugs to get my crohns under control, major bowel surgery while alone in lockdown to remove 70% of my large bowel (an extended right hemicolectomy), and 3 months of chemotherapy afterward due to the cancer microscopically perforating my bowel.
My world turned upside down, I was a 43 year old woman with 3 children (11, 10 and 6) and I loved doing so much in the outdoors: snowboarding, hiking, running, diving etc. Questions of my mortality came up frequently and often, leaving me constantly in tears. I was an emotional wreck, not sleeping and just could not see my way through it. Would my life end? Or would it just be a fraction of the kind of life I'd led up until now? Neither option seemed promising. But I was reminded constantly by my husband of the blessings in our life. He reminded me I had a choice to make and I made it. Every day I made a conscious decision to be grateful for what I could in my life, to pray and hope for the best (putting what was not in my control into the big mans hands) and to look forward to a future that wasn't always focussed on my sickness. I continued to exercise (at a reduced capacity), and do my favourite things – camping & exploring beautiful places with good friends and family. I kept looking forward and planning our outback Aussie trip: I watched others journeys, researched places we would go, & meditated with the vision of us in the outback as my happy place. And kept the life I wanted to lead forefront in my mind.
Of course, whilst doing this, I was having to learn new toileting habits, have chemo infusions, & put up with nausea from the chemo tablets but I decided to push through it for the bigger goal.
And now I pinch myself because we are here. We have been on the road for a month in WA thus far and have many more months of exploration to enjoy. Yes, there are challenges. It was never going to be easy. I've had to meet a specialist here in order to get my portacath regularly flushed. I've had to jump hoops to consult with a gastroenterologist to get my special immunomodulating drug (Humira injections) here. And when I need to go to the toilet, - I need to go fast! Which can be a challenge on the endless open roads here. But as they say, anything worthwhile has significant challenges to overcome first. This situation is no different. A positive mindset will lead you to your dreams but negativity will never see you achieve them if you can't let it go. See opportunities, and solutions, not problems. And you will find your way.
We really hope my journey can inspire others battling this dreaded disease to step out with a positive mindset and continue to strive for your goals. We don't know that it won't come back, there's a 30% chance of reoccurrence in my situation.
But we refuse to dwell on that. We will live life to the fullest instead. We are having wonderful adventures now with our children (while they are young and still want to hang out with us) and exploring some of the most magical places.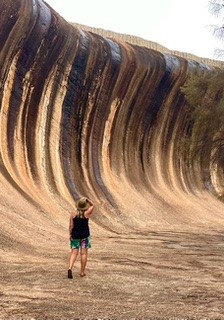 You can watch our episodes on youtube.com/barefootkiwis and if you are brave enough, please comment and let us know you are also fighting the good fight. We would love to connect with you!