Immunotherapy is mostly used to treat people with cancer that has spread throughout their body.
What is immunotherapy?
Immunotherapy is a type of cancer treatment that helps your own immune system to fight cancer.
Your immune system is how your body naturally protects you from disease by killing bacteria and germs.
Immunotherapy is given as an infusion through a needle or catheter, usually intravenously (IV)
Cancer is a disease of the body's cells. It starts in our genes. Our bodies are constantly making new cells, a process controlled by certain genes. Cancers are caused by damage to these genes. As the damaged cells replicate a lump or tumour is formed.
Tumours can be:
Benign - not cancerous. These do not spread to other parts of the body.
Malignant - cancerous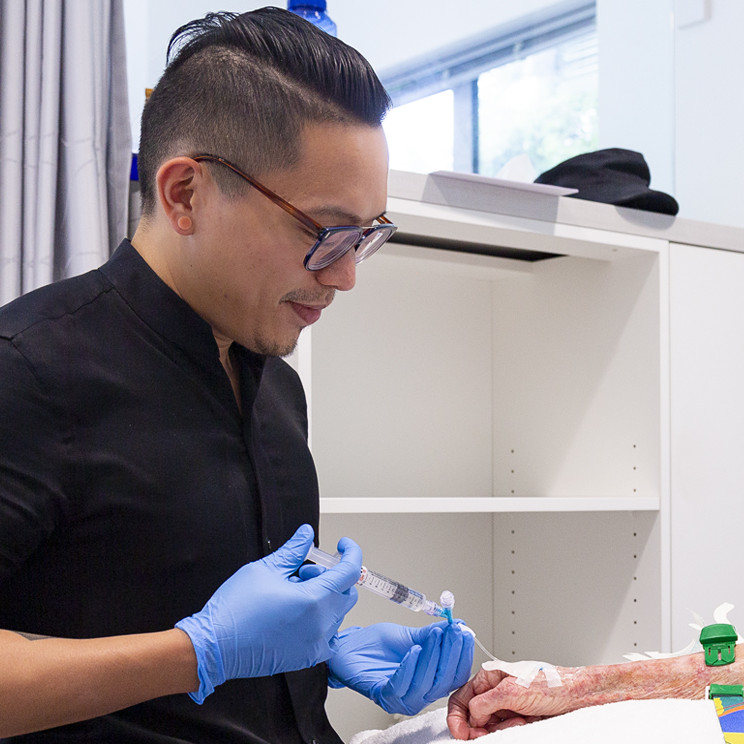 Types of immunotherapy
Checkpoint inhibitors
Sometimes, cancer cells can trick the immune system into "turning off" and stop it from attacking the cancer cells.
Medications called checkpoint inhibitors are used to turn the immune system cells back on so they can find and attack the cancer cells.
Cancer vaccines as a treatment
Cancer vaccines work differently than vaccines that stop you from getting viruses. Cancer vaccines help the immune system to attack cancer cells that are already in the body.
When is immunotherapy used?
Immunotherapy is currently mostly used to treat people with cancer that has spread throughout their body (advanced cancer).
Immunotherapy aims to:
cure the cancer
shrink the cancer before an operation
help radiation treatment work better
relieve some of the symptoms caused by your cancer
reduce the possibility of your cancer coming back
help you live longer
Your treatment team will offer the best treatment for you based on the type and stage of cancer as well as your general health.
This means you may have different treatments from someone else, even if their cancer type is the same type as yours.
Before any treatment begins, make sure that you have discussed and understood your treatment team's advice. You may ask for a second opinion if you want one.
Side effects of immunotherapy
The side effects you may have will be different depending on what type of immunotherapy you have.
Common side effects are:
dry or itchy eyes
pain in your joints
skin rashes
tummy pain and bloating
diarrhoea or blood in your poo
Less common side effects are:
headaches
change in your eyesight
whites of your eyes turning yellow
shortness of breath and coughing
severe tummy pain
dark coloured pee (urine)
issues with your thyroid
Immunotherapy in New Zealand
Using other medications or treatment
Immunotherapy can mix with common medicines and cause harmful side-effects.
It is important to let your treatment team know about any other medicines or supplements you are taking so they can check for any known reactions.
Talk with your treatment team before having any vaccinations.
Using complementary or traditional healing
Sometimes people with cancer might think about using complementary therapies or traditional healing.
Some alternative, complementary and traditional healing methods may react with the treatment you receive and cause harmful side-effects.
It is important to talk to your treatment team about any other therapies you're using or thinking about because they may interfere with hospital treatment.
Need someone to talk to?
We know that going through cancer is tough and can raise many questions. You are not alone.

We have health professionals to answer your questions and provide the support you need. Get in touch
Last updated: April 17, 2023