Terrified but calm, I waited for the day of surgery, akin to standing at the edge of a ship's plank but seeing a reachable shoreline ... I awoke less a breast, but I was more of a woman! For I had found strength beyond my knowledge and bravery, surpassing my understanding of bravery.

Kat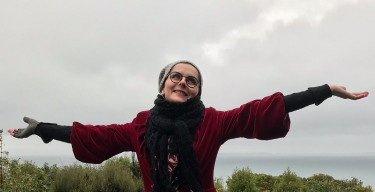 Kat Pink's Cancer Story
Every story has a beginning, but only a few captivate the reader and change their life.
Breast cancer changed Kat Pink's life. It captured Kat like a character in a gripping mystery.
"I floated through the cracks in life with barricaded hopes. I needed change, and change found me. Not in any usual way, nor with any clarity, but life was changing, and I chose to embrace it.
I was damned if any more negativity was going to bring me down. I wasn't willing to be a suffering fool. If I was to suffer, I was determined to rise beyond expectations and embrace the journey placed in front of me.
The Doctors expression spoke the words, which were locked away inside. No words needed to be said! I knew!
Dread loomed, but love for my children strengthened my path of bravery. I was determined to fight. I was going to become my own "Joan of Arc". A Joan against the battling forces of cancer, a war across my breast and a battle I would not surrender lightly. My fight began.
Terrified but calm, I waited for the day of surgery, akin to standing at the edge of a ship's plank but seeing a reachable shoreline. My nerves overcame me as I surrendered to the reality of what I was losing. I awoke less a breast, but I was more of a woman! For I had found strength beyond my knowledge and bravery, surpassing my understanding of bravery.
I nervously watched as the prescribed treatment concoction slowly entered my vein.
I wanted to escape but knew my only exit was beyond my power alone. Freedom lay in reach, but I must endure before strength would prevail. My body reacted, but I stayed strong and found solace from those who cared.
I was aligned with the machine, with tattoos small and discreet, serving as guides. Day after day, I lay my body down with my skin burning with each passing time. I breathed in the brisk morning air and looked towards each morning sun. Each day's closing brings soothing for another.
As I reflect and ponder, I embrace the woman I have become. The scar that lays across my chest is beautiful and portrays the depth of character within my own powerful life story! I am proud of and love who I am today!
Thank you to those who cared and continue to shine their warming light upon my path ahead.
My immeasurable thanks to the Cancer Society's insight, wisdom, and opportunities throughout my past, present and moving forward journey. Aynsley Dermody of the Southland Cancer Society was and continues to be an impactful part of my and my children's lives, being reachable and approachable.
Driving me to and from treatments, organised transport, accommodation, and an excellent volunteer, "Cristina", who visited me weekly, offering to collect groceries, take me for a drive to the water's edge or sit with me and lend a listening ear.
Thank you to Emma, who had her hair shaved when I lost mine. Ange held my hand when I listened to my cancer results. Wolfy and Leif, my wonderful teenagers, whose maturity was far beyond their years!
Wolfy, the eldest, instinctively became a parent and carer and ran the household duties while I was away for treatment.
During those times, I thankfully was able to stay at Daffodil House, where I was always welcomed with a warm embrace. A home away from home!"
Daffodil Day symbolises hope for Kat and all New Zealanders impacted by cancer.
Cancer doesn't stop; thanks to you, we won't either. More New Zealanders will get cancer this year than ever before. No one should face cancer alone.
Donations can be made at daffodilday.org.nz – please give generously this year.