If you, or someone you know, has been diagnosed with cancer, the Waikato/Bay of Plenty Cancer Society is here to help.
We offer a range of free, practical assistance and supportive care to help you and those you care about understand cancer, get through treatment and find support.
You don't need a referral from a healthcare professional to access our services. Simply get in touch by phone or email. One of our supportive care nurses will contact you to talk about your individual needs and connect you with appropriate support services.
Our supportive care nurses work in communities across our region to support people throughout Bay of Plenty, Coromandel, King Country, Rotorua, Taupō, Thames, Tūrangi and Waikato.
We also have office locations in Hamilton, Tauranga and Rotorua, and an accommodation facility for people who need to travel for treatment at Waikato Hospital.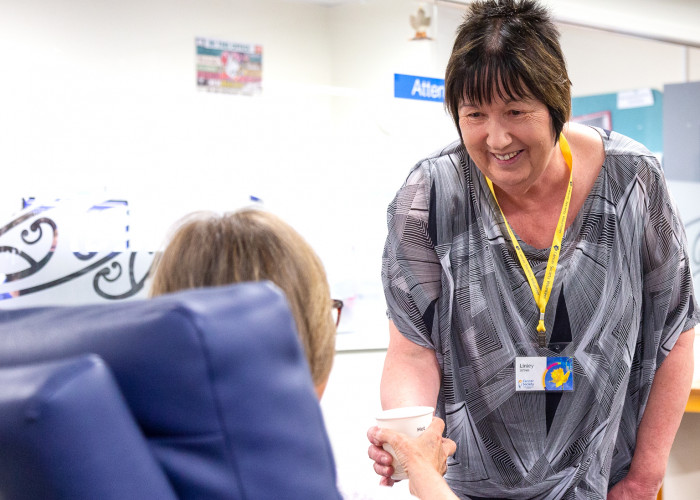 Volunteer with us
You can make a difference. Visit our volunteer portal to see what roles we have available in Waikato/Bay of Plenty.
Find out more
Waikato/Bay of Plenty services under the COVID-19 Protection Framework
Our nurses are available to provide information, advice and support via phone and email at every alert level.
Home visits from our supportive care nurses are available under Green and Orange settings, with precautions in place.
Face-to-face support groups will resume in May. Please contact your supportive care nurse for details.
Transport to treatment is available with precautions in place. All clients will be screened prior to their drive.
Face masks must be worn, and clients will be seated in the back seat diagonally opposite the driver.
The Lodge is open at every level to ensure people with cancer have a place to stay when travelling for treatment.
Guests and support people will be tested for Covid-19 prior to their arrival and during their stay at the Lodge.
Masks and physical distancing are required in all common areas, like the dining room and lounge.
Visiting hours are restricted. Please contact the Lodge for more information.
Our offices are open at Green and Orange settings. All visitors must wear a mask and physically distance.
Referral form for Health Professionals

Our services are available to anyone diagnosed with cancer, family/whānau. Please use this form if you would like to use our services or refer someone else to our services.
If you or a member of your whānau have received a cancer diagnosis, you can just ring us on 0800 226 237. You don't need to be referred by a health professional.
What we did across Waikato/Bay of Plenty last year
8,436
times our nurses were there for people
76,541
KMs driven by Cancer Society volunteers
11,093
Nights stayed in Cancer Society accommodation
Last updated: March 1, 2022