I think Cancer Society is so important. If you live alone, you can feel isolated. You need good outlets to socialise.

Gordon Reihana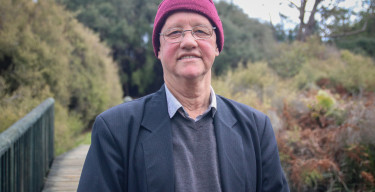 For many people with cancer, talking with people who are going through a similar experience can be one of the best ways to find support during tough times.
Gordon Reihana puts the finishing touches on a piece of glass art at a free workshop at Cancer Society's Rotorua office. Shards of primary-coloured glass are layered over a black tile. Later, local artist Jayne Baume, who is leading the workshop, will take the piece home to fire in her kiln. The finished artwork will serve as a lasting memento for Gordon from his cancer experience.
The fusion glass workshop is something new for him, but Gordon's a regular at another Rotorua cancer support group.
After a lifetime of travelling around the world, in 2020 Gordon decided it was time to come home and be closer to family. But, less than 18 months later, he was diagnosed with stage 4 prostate cancer.
"I didn't know what to think. Why me? Why now? I was overwhelmed by it all. I didn't know what to do."
There were piles of photocopied printouts about the treatment he needed for prostate cancer. And then piles more for the medicines he would need to control the side effects of those treatments. Despite many years' experience working as an aged-care nurse in Australia, Gordon felt unprepared for the road ahead.
"The first cycle of chemotherapy was absolutely abhorrent. By cycle four, I was psychologically and physically down, and in a really bad way. I thought, 'what am I going to do?' I thought I could deal with it, but I couldn't."
Like many independent men of his generation, Gordon found it hard to seek help. But he's glad he did.
"I pushed myself to reach out. That's when I got in touch with Andrea, a nurse at Cancer Society. It was Andrea who suggested I see a psychologist.
"The cancer psychologist opened up a whole new world. I wasn't a communicator. I don't sit around conversing with guys. But going to a psychologist made me a better communicator, especially with my sister. I'm closer to my sisters and nieces now."
But there were times when Gordon didn't want to share what he was going through with loved ones.
"I didn't want to burden people with my illness, and some people just don't want to know. It's good to have support outside the family unit. Some things you can't share with family."
A keen musician for most of his life, the side effects of treatment have meant Gordon has had to put his guitar down for now. He's picked up the pen instead and started writing as a way of processing his experience. But social activities like the monthly Cancer Society support group in Rotorua has been invaluable, even if it took a bit of an adjustment for Gordon to open up to new friends.
"Now you can't shut me up. Everyone has their own story. You can give as much or as little as you want and not be judged because you're around people who 'get it'.
"Some people might think it would be morbid, but it's not all doom and gloom. People are upbeat and there is laughter.
"If it wasn't for Andrea, I don't know what I would have done. She turned up to my place, how cool is that? She said, 'you're not alone with this'. I clung on to that.
"I think Cancer Society is so important. If you live alone, you can feel isolated. You need good outlets to socialise."
To find a cancer support group near you, contact your supportive care nurse or call 0800 22 77 44.