If you're worried about losing your hair, talk to your treatment team so they can help you prepare. 
Video Link: https://www.youtube.com/embed/i_8stnYo9vQ?autoplay=0&modestbranding=1&rel=0
Will my hair fall out?
Some people don't lose their hair during cancer treatment. Other people find that their hair becomes thin and dry. But some people will lose all the hair from their head and their body.
Whether this happens to you depends on what treatment you have.
Chemotherapy
Chemotherapy makes the hair follicles weak, and your hair may start to fall out two or three weeks after your first treatment.
Your scalp may feel hot or itchy just before your hair starts to fall out. Your hair will grow back after the chemotherapy ends.
Radiation treatment
Radiation treatment to the head or scalp can cause permanent hair loss.
You may have hair loss on other parts of your body where the radiation is directed towards.
Hormonal therapy
Hormonal therapies rarely cause complete hair loss, but some people may notice their hair becoming thinner and drier.
Targeted treatment
Some targeted treatments can lead to hair thinning.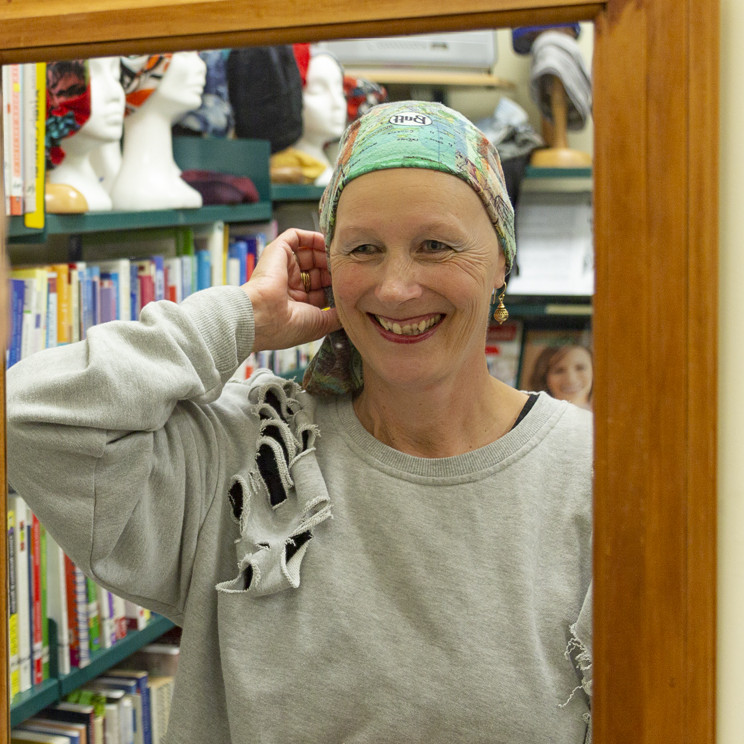 Hair regrowth after treatment
After treatment finishes, your hair will re-grow slowly. It will take between four and 12 months.
When your hair does grow back, it will probably be a different texture and different colour.
Sometimes curly hair grows back straight, or dark hair becomes lighter. These changes are usually not permanent. Your head may be quite itchy as your hair begins to grow back.
Talk to your treatment team about what to expect. You might want to ask them if your hair is likely to be affected by treatment and if and when, it might grow back.
Managing hair loss
Losing your hair can be upsetting, but for most people, hair will grow back. Until it does, you might want to wear a wig, scarf or hat.
If you choose a wig, it is a good idea to look at wigs before you start losing your hair so you can make sure it matches your style and colour.
If you have children or grandchildren, they may find it upsetting to see you without any hair. Let them know that it is going to happen.
Tell them about what, if anything, you will wear on your head and let them know when your hair will grow back.
Wigs and hairpieces
The Government offers a subsidy to help pay for the cost of wigs, headwear and associated products.
You will need to fill in a wig and hairpiece claim form and get a certificate from your treatment team.
Protecting your scalp
Some people don't bother with wigs, and they stay bald or cover up with scarfs or hats.
There is no medical reason for having to cover up your head, but your scalp will be more sensitive to the sun than normal, so you should wear a hat and a high-protection sunscreen (SPF 30+) on your scalp when you are in the sun.
In the winter, your head may feel much colder than it normally would.
Look Good Feel Better workshops

Look Good Feel Better workshops help people affected by cancer manage the appearance-related side effects of cancer treatment.
There are classes for men and women. They provide free practical classes with skincare, make-up and headwear demonstrations.
The goal is that participants leave feeling empowered and ready to face their cancer diagnoses with confidence.
Need someone to talk to?
We know that going through cancer is tough and can raise many questions. You are not alone.

We have health professionals to answer your questions and provide the support you need. Get in touch
Last updated: December 22, 2022