This research is a clinical trial of an immunotherapy vaccine in colorectal cancer patients undergoing surgery for their primary cancers. The vaccine will be given by mouth, minimising impact on patients, to stimulate local immune responses in the gastrointestinal tract.
Previous work by the research team has characterised immune responses in over 150 colorectal cancer patients. The researchers have used this data to design the immunological analysis to be carried out in the planned study.
This one-year project aims to develop all the processes and infrastructure necessary for the clinical study to proceed, including: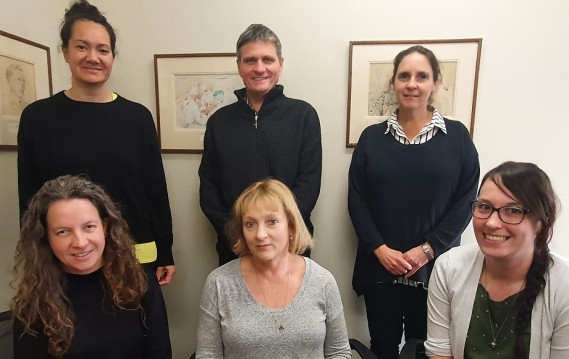 gaining all required approvals
developing and validating the methodologies for manufacture of the clinical grade immunotherapeutic vaccine.
Professor Sarah Hook says: "Our research team is hugely appreciative of the grant. It means that we are able to finalise the incredibly important procedures and protocols that are necessary for running a clinical trial. This will then let us launch into our trial where we plan to use a safe simple therapy to make the patient's own body kill their tumor."
Funding: $109,683

Sarah's team includes:
Back row - left to right

Dr Ella Iosua (Biostatistician)
Associate Professor Mark Thompson-Fawcett (Colorectal Surgeon)
Professor Roslyn Kemp (Immunologist)
Front row - left to right


Dr Sharon Pattison (Medical Oncologist)
Professor Sarah Hook (Pharmaceutical Scientist)
Dr Jessica Fairhall (Research Fellow)