SUBMISSIONS HAVE NOW CLOSED. THANK YOU TO EVERYONE WHO CONTRIBUTED. WATCH THIS SPACE FOR UPDATES.
Smoking tobacco remains one of the leading causes of death and disease in Aotearoa.
Around 5000 New Zealanders die from tobacco-caused illnesses each year. As you may have noticed, youth vaping has increased considerably over a short period of time and impacts the lives of our future generation.
Manatū Hauora (Ministry of Health) wants to hear your views on proposals to change the way that smoked tobacco and vaping products are made and sold in Aotearoa (including vaping, heated tobacco and herbal smoking products).
This consultation follows the passing of the Smokefree Environments and Regulated Products (Smoked Tobacco) Amendment Bill in December 2022.
What is the consultation about?
This consultation seeks to gather community feedback about changes to support those trying to quit smoking whilst making vaping products less appealing to people who have never smoked before, especially young people.
Your feedback will guide and influence the details of new regulations and recommendations for a Smokefree Aotearoa.
Your feedback is welcomed on:


Your local knowledge about where tobacco retailers and Specialist Vape Retailers (SVR) should be located.
New low nicotine requirements for smoked tobacco.
Fees and notification requirements for retailers who sell tobacco products.
Ways to reduce the appeal of vaping products to youth.
Strengthening current safety requirements and packaging for vaping products.
Proposed changes
The consultation covers five different proposals. It is important to remember you do not have to comment on all five proposals.
Proposals aim to prevent the continued rise of youth vaping, whilst enabling access to vaping products for people who are trying to stop smoking.
Click on the tab to see what each proposal discusses and what you can comment on.
A set of maps developed by Manatū Hauora shows how tobacco retailers could be spread across the country. The maximum number of smoked tobacco retailers in Aotearoa will be no more than 600.
Minimum criteria for selling smoked tobacco products. There are suggested criteria tobacco retailers must follow to legally sell tobacco products. This includes good security systems, staff training (including preventing sales to minors), and recording of tobacco sales. It also ensures tobacco retailers have a 'fit and proper person'- meaning be 18+ and no prior convictions or misconduct.
Application process for retailers who want to sell tobacco in their stores. Proximity to schools ECE's, parks, marae, etc are also considered. MoH are keen to hear which things should have more weight when deciding between two similar retailers. E.g. they both meet all the minimum requirements but one has slightly stronger security measures and the other is further away from a local school. Which would you recommend they choose?
Online tobacco sales and how they should be carried out.
Testing, product requirements, and product packaging. From 1 April 2025 only low nicotine smoked tobacco products (cannot be more than 0.8mg per gram) will be allowed in New Zealand.
What packaging looks like and if there should be messages to inform people about low nicotine changes.
How fees are decided by the Ministry of Health. Eg., fees for applications, registrations, and approving products for smoked tobacco providers, general vape retailers, and retailers of other notifiable products. The fees proposed may need to be higher to fully cover all these costs.
Process for retailers who sell tobacco products and other retailers of notifiable products.
From 1st October 2023, tobacco retailers will need to complete a form with their contact details to update the Ministry of Health - Director-General about their business.
Extending vaping packaging and product restrictions to improve safety of vape products and reduce the appeal to young people.
Description on the vape product and packaging only state the product's flavour and be limited to only one or more flavours from a permitted list of flavours. It is proposed that the prescribed vape flavour wheel exclude flavour descriptions that appear to target young people (such as those under the 'candy' label in the example wheel below).
Stronger safety requirements for disposable vape products.
Specialist Vape Retailer (SVR) location restrictions - for example, the distance from schools and sports grounds or other places specific to communities.
E-liquid flavour wheel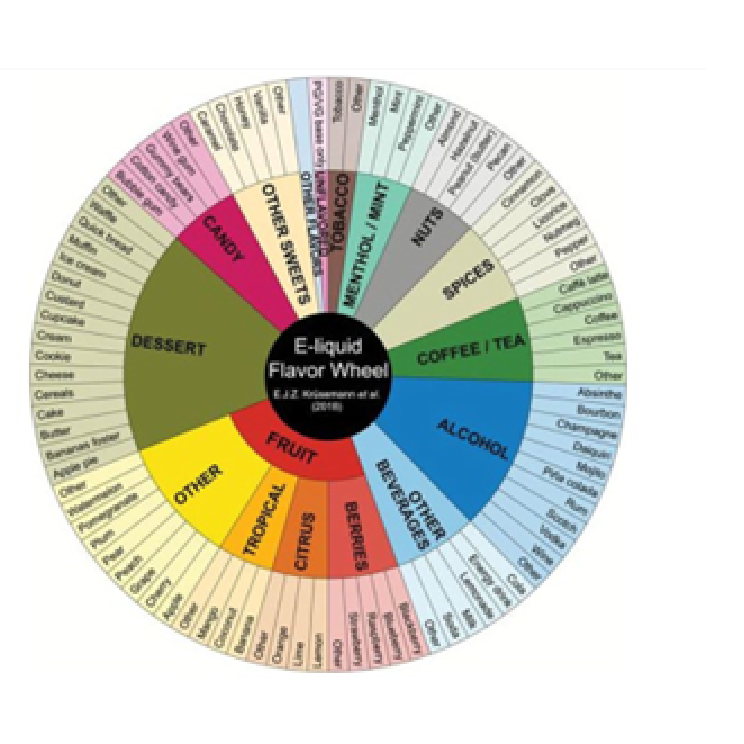 Have your say
There are 2 ways to provide your feedback to Manatū Hauora (Ministry of Health):
1. Fill out a simple submission.
We recommend this option if you want to make some brief suggestions. On the webpage, the 'Your details' section is optional. Complete as many or as few questions as you want, then click 'Continue' and complete the 'Declarations, publishing, submissions and privacy' section at the bottom of the main page, then click 'Finish'.
2. Fill out the full submission.
You do not have to answer every question.
We are here to help
We understand that making a submission can be intimidating but trust us: we have found it challenging to respond to some aspects of these changes too.
The most important voice is yours and what changes you want to see in your communities!

Feel free to contact us at smokefree@cancer.org.nz if you have any queries or need some more information.