Wellington, 28 April 2023 - Two researchers committed to maximising Māori health gains are receiving funding for their research into improving cancer treatment.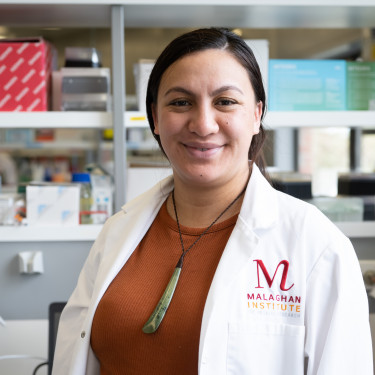 Award Recipients Danielle Sword (left) and Grace Young (right).
JOINT MEDIA RELEASE
Te Kāhui Matepukupuku o Aotearoa (the Cancer Society of New Zealand) and Hei Āhuru Mōwai (Māori Cancer Research Leadership Aotearoa) partnered to award Māori cancer researchers to address health inequities.
One of the researchers receiving a Māori Cancer Researcher Award is Danielle Sword (University of Otago, based at the Malaghan Institute). Her PhD research focuses on CAR T-cell therapy, a form of cancer immunotherapy. She will look into improving the mechanisms of CAR T-cells in the laboratory and investigate te ao Māori perspectives on CAR T-cell therapy from patients, their whānau, and the researcher.
"I would like to see our whānau have a better chance at fighting against cancer. This Māori Cancer Researcher Award means I can pursue a PhD that will utilise both Western Science and Mātauranga Māori to explore the emerging cancer treatment CAR T-cell therapy and its potential impact on Māori," says Danielle Sword.
"I am very humbled and proud to be awarded this scholarship. The support from Hei Āhuru Mōwai and the Cancer Society with this kaupapa gives me more confidence in my mahi as a wāhine Māori scientist and researcher."
Grace Young (University of Otago) receives a Māori Cancer Researcher Award for her PhD research into developing a better treatment for triple-negative breast cancer, which is fatal to many patients. This type of cancer is prevalent among young women in New Zealand, and in particular Māori women.
Dr Jonathon Koea, Māngai for Hei Āhuru Mōwai, says "These awards demonstrate what can be achieved by mainstream and Kaupapa Māori NGOs working together to grow the Māori research workforce and answer research questions of relevance to all New Zealanders."
Tumu Whakarae of Te Kāhui Matepukuku o Aotearoa Lucy Elwood adds: "The Māori Cancer Researcher Awards demonstrate our commitment to advance Māori aspirations in cancer research. We hope that with these awards, we can change the underrepresentation of Māori researchers in the cancer space and reduce health inequities."
Danielle Sword - researcher bio
Video Link: https://www.youtube.com/embed/1aSB90VhOBs?autoplay=0&modestbranding=1&rel=0
ENDS
Background information
The Cancer Society is a major funder of life-saving and world-class cancer research. In the past 10 years, the Cancer Society has invested more than 52 million dollars in research around the country that has improved the prevention, detection, and treatment of different types of cancer, and aimed to help New Zealanders live longer following a diagnosis.
Cancer Society Chief Executive Lucy Elwood and Dr. Kimiora Hēnare of Hei Āhuru Mōwai are available for comments.

Please contact:
Wendy Billingsley
Communications Manager | Cancer Society of New Zealand
wendy@cancer.org.nz
027 66 66 552

About Hei Āhuru Mōwai
Hei Āhuru Mōwai Māori Cancer Leadership Aotearoa is a national network of Māori cancer professionals, clinicians, researchers and whānau who are committed to rangatiratanga in cancer control, eliminating cancer inequities between Māori and non-Māori and accelerating hauora gains for whānau Māori

About the Cancer Society of New Zealand
The Cancer Society of New Zealand is the country's leading organisation dedicated to reducing cancer incidence and ensuring the best cancer care for New Zealanders. We are committed to working with communities and decision-makers by providing leadership and advocacy in cancer control, with core services in information and support, research and health promotion.
cancer.org.nz
facebook.com/cancersocietyNZ
twitter.com/nzcancerso