SunSquirt dispensers use Cancer Society SPF50 Everyday Lotion Sunscreen
Sunscreen description
SPF50 Everyday Lotion 2.5L
UVA/UVB Broad Spectrum
Dermatologically approved
Paraben free
Dry touch
Aloe Vera for skin moisturising and soothing
Vitamin E, an antioxidant that protect and repairs your skin
Four hours water resistance - reapply your sunscreen every two hours, as well as after swimming or sweating.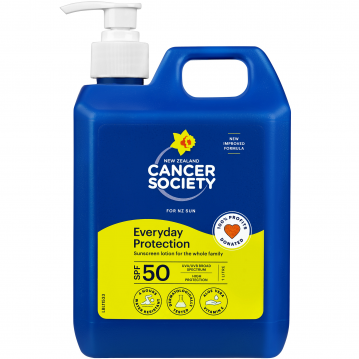 How to apply
Apply sunscreen 20 minutes before going outside.
Reapply at least every two hours - or more often if you have been swimming or sweating.
It takes around seven teaspoons (35 mL) of sunscreen for one full body application for an average sized adult.
You should apply about one teaspoon of sunscreen to:
your face, ears and neck
each leg
each arm
the front of your body
the back of your body.
Video Link: https://www.youtube.com/embed/iLG5FnO3Qeo?autoplay=0&modestbranding=1&rel=0
Be SunSmart
Slopping on sunscreen is just one way to be SunSmart.
It is important to protect your skin and eyes from UV radiation when you're outside from September to April, especially between 10am and 4pm.
Remember to Slip, Slop, Slap and Wrap:
Slip on sun-protective clothing
Slip into shade
Slop on sunscreen
Slap on a hat
Wrap on sunglasses.
Visit the Sunsmart website for more information on how to be SunSmart this summer.
Active Ingredients
Homosalate 80mg/g
Octocrylene 60mg/g
Ocyl Salicylate 50mg/g
Butyl Methoxydibenzoylmethane 35mg/g
Ethylhexyl Triazone 13mg/g
Bemotrizinol 10mg/g
SPF Testing
All Cancer Society sunscreen products are certified by the Australian Therapeutic Goods Association (TGA), which regulates sunscreens in the same way as prescription medicines. This means our sunscreens are subject to strict manufacturing practices, including materials sampling, validation activities, product quality reviews and ongoing stability trials.
SPF50 Everyday Lotion has been independently tested at Dermatest in Australia in a 10 person test and met it's SPF 50 label claim. This has been done in accordance with the Australian and New Zealand Standards AS/NZS2604:2012.
SPF50+ Everyday Lotion – 100ml, 200ml, 400ml, 1 Litre – Tested with a mean SPF of 66.8
For more information on SunSquirt sunscreen dispensers, visit https://sunsquirt.co.nz
Last updated: October 26, 2022