Make your mark on our mission to beat cancer.
By joining the Hope For Life programme, you're making sure expert care and support are always available for people facing cancer in your community.
You're providing free nursing and counselling support, transportation to treatment and accommodation for those living far from medical support.
You're protecting future generations through prevention programmes and life-saving research by joining our mission to reduce cancer rates and the devastating impact it has on communities.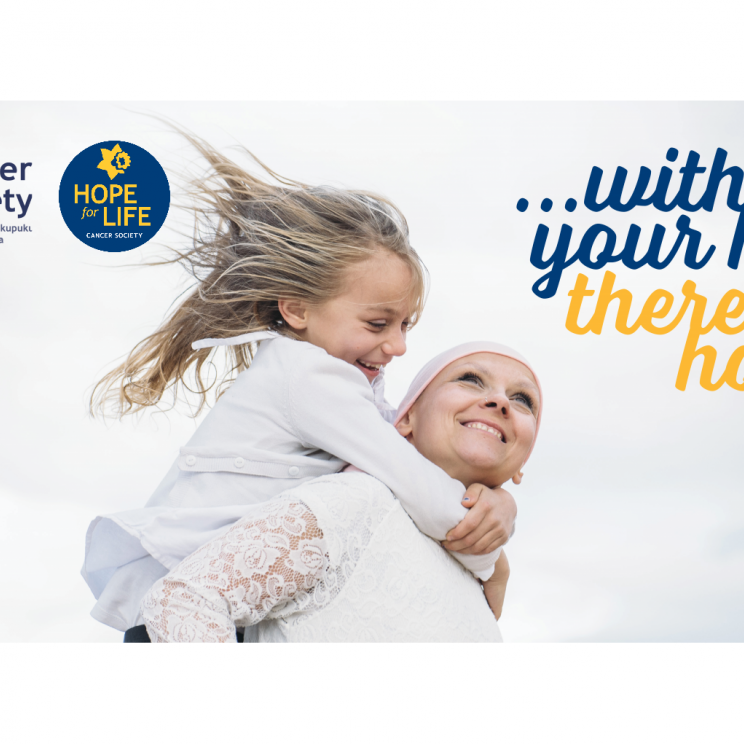 Your support has never been more important. Every day, 71 New Zealanders are diagnosed with cancer, and cancer remains the leading cause of death in New Zealand.
As a Hope For Life monthly donor, you will make a huge impact. Your ongoing gift will make sure no one faces cancer alone and partner in our mission to beat cancer for generations to come.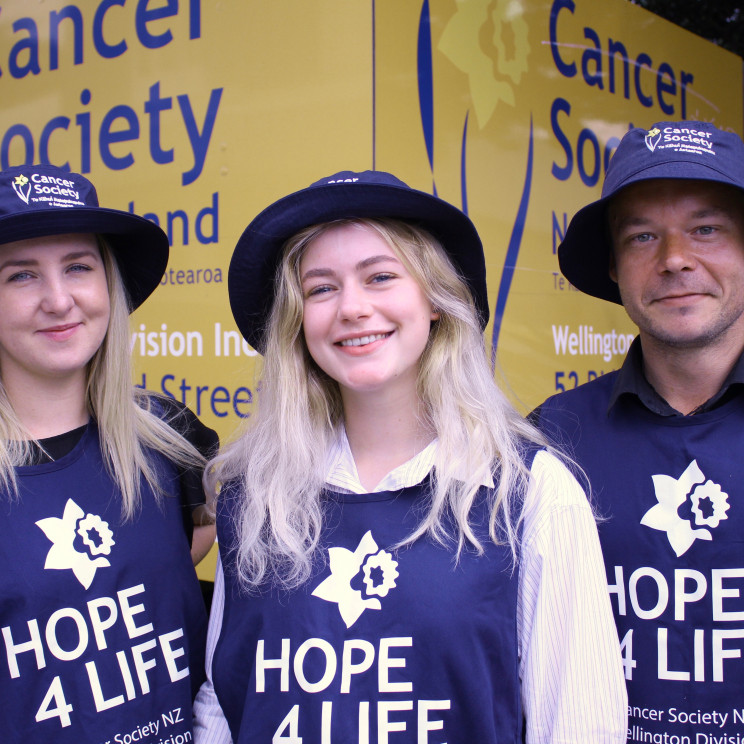 Hope For Life FAQs
Cancer Society relies on community funding, so we depend entirely on the generosity of supporters like you to provide crucial help to cancer patients and families.
Despite all the modern technology available today, talking directly with people about the need for cancer services and finding life-saving cancer treatments is one of the most effective ways to inspire them to become a regular donor.
Our door-to-door team are following all Covid-19 guidelines, ensuring the health and safety of the public and themselves.
Monthly giving means setting up a monthly donation to Cancer Society for an amount of your choosing. The donation can be made by credit card or straight from your bank account to ours via a Direct Debit. Your kindness is placed at the forefront of our services to those going through cancer and alongside our researchers in their vital work.
We ask that you choose a monthly gift amount that suits your particular circumstances and that you can sustain comfortably on an ongoing basis.
Many people choose to give around $30 a month but the amount is entirely up to you.
Our fundraisers are an enthusiastic and dedicated team who are passionate about helping people with cancer.
Our team is following very strict Covid-19 guidelines to ensure both their own and the public's safety during this time. We provide the names of our fundraisers and the areas they are working in to reassure you that they are genuinely fundraising on behalf of the Cancer Society.
Sometimes their work is challenging and difficult so please, even if you are not in a position to become a part of Hope For Life, say hello to them and make them feel valued and supported.
Jemma Perrin
Jack Kiddy
Lea Kamrad
Flora Weisner
Jannika Heinrichsen
Our team moves locations each week, and this information will be kept updated below.
Locations for the current period:
District
Suburb
Dunedin
All

Central Otago &

Queenstown Lakes District

Mount Creighton

Glenorchy

Sunshine Bay

Fernhill

Frankton

Kawarau Falls

Kelvin Heights

Jacks Point

Drift Bay

Wye Creek

Kingston

Lower Shotover

Lake Hayes

Arthurs Point

Albert Town

Lake Hawea

Hawea Flat

Shotover Country

Wanaka

Roxburgh

Arrowtown

Queenstown Hill

Dalefield

Speargrass Flat

Cardrona

Ben Lomond

Quail Rise
Our telephone fundraisers are passionate about helping people with cancer. Now, more than ever, we need support. If you have any questions, please call us on 03 477 7447 or email hope4life@cansoc.org.nz
Sometimes their work is challenging and difficult so even if you are not in a position to make a donation or become part of Hope For Life, please treat them with respect.
The fundraisers may phone between 9am and 8pm on weekdays and between 9am and 5pm on Saturdays.
Our fundraisers will have photo ID confirming their name and displaying the Cancer Society logo. They will be wearing a navy Cancer Society tabard (bib).
If you are uncertain about a fundraiser please contact us by phoning 03 477 7447.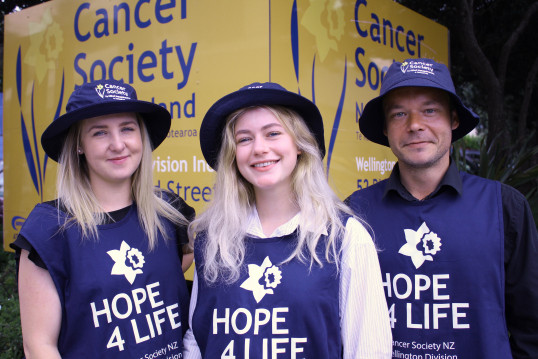 If you have any questions or feedback about a fundraiser please do not hesitate to contact us by phoning 03 477 7447 or emailing hope4life@cansoc.org.nz
To help us answer your query, we will ask you to provide as much information as possible, such as:
Your name
Your contact details
Date

and time you spoke with the fundraiser and their location (if you met the fundraiser in person)

The fundraiser's name (if you know it)
Summary of your query or feedback
If you choose to become a Hope For Life donor and sign up for the programme, you will receive an email confirmation within 24 hours of signing up. This email will confirm the amount of your gift, your preferred monthly gift date and the first date we will process a gift from you.
After your first successful donation, you will also be sent a welcome letter including a Hope For Life pin to thank you for your generosity (postage timeframes dependant on current volumes and Covid-19 restrictions).
If you signed up in person, our team will also call you to confirm your donation amount and preferred monthly gift date.
The security and privacy of your data is a top priority and we use multiple layers of security and encryption.
Your details are encrypted to ensure your personal information and credit card or bank account details are secure. Your personal details are transmitted and stored securely in compliance with industry standards.
You can read more about our Privacy Policy here.
We know many people in our community are already generous supporters of Cancer Society. So if you are an existing supporter it is very likely that our fundraisers will, at some point, speak with you about Hope For Life
Becoming a Hope For Life donor is a convenient and powerful way to support cancer patients and families with a regular monthly gift but it may not suit everyone – however you choose to support Cancer Society is greatly appreciated!
Direct Debit Authority
Specific conditions relating to notices and disputes
I may ask my bank to reverse a direct debit up to 120 calendar days after the debit if:
I don't receive a written notice of the amount and date of each direct debit from the initiator, or

I receive a written notice but the amount or the date of debiting is different from the amount or the date specified on the notice.
The initiator is required to give you a written notice of the amount and date of each direct debit no less than 10 calendar days before the date of the debit.
If the bank dishonours a direct debit but the initiator sends the direct debit again within 5 business days of the dishonour, the initiator is not required to give you a second notice of the amount and date of the direct debit.
Credit Card Authority
Conditions relating to recurring card payments
1. The Initiator agrees:
(a) To give advance written notice to the Customer of the payment date and amount of any debit to the Nominated Card.
2. The Customer may:
(a) At any time, terminate this Authority by giving written notice of termination to the Initiator.
3. The Customer acknowledges that:
(a) This Authority will remain in full force and effect in respect of all amounts to be debited to my Nominated Card in good faith notwithstanding my death, bankruptcy or other revocation of this Authority until actual notice of such an event is received by the Initiator.