Janet Pitman is a reproductive biologist with a passion for the ovary. She works in fertility research at Victoria University, seeking to understand the complexities of the ovary.
Janet's exploration into murine ovarian cancer models was almost coincidental.
It was the result of an accidental meeting of her mentor (emeritus Professor Ken McNatty) while he was in the US at a wedding.
At the wedding he was asked by the man standing next to him, "have you read any good books lately?"
"Yes," he replied, "I'm reading Lance Armstrong's book 'It's not about the bike'."
"Funny you should say that," his neighbor replied, "because I was one of Lance Armstrong's oncologists."
So started a discussion about a unique murine model that developed ovarian cancer closely resembling that experienced by women.
Video Link: https://www.youtube.com/embed/FYuyB-MMa18?autoplay=0&modestbranding=1&rel=0
Ovarian cancer is the most lethal gynaecological cancer. It is the most common type of cancer in New Zealand women over the age of 50. Survival rates have been low due to the lack of obvious symptoms in the early stages. The lack of ovarian tissue biopsies from early stages of this disease have hampered researchers in their understanding of how ovarian cancer develops.
Janet and her co-researchers had observed that when eggs were lost from non-growing follicles, ovarian cancer often develops. As a result of the fortuitous wedding meeting, Janet and her team at Victoria University now use this unique murine ovarian cancer model sent over from the US. These models spontaneously develop ovarian cancer that look similar to that of ovarian cancer in women. This allowed researchers to observe changes that will ultimately help detect early signs of ovarian cancer.
The Cancer Society have funded this research. Determining early biomarkers of ovarian cancer will have an impact on the survival rate of women affected by ovarian cancer.
Currently, less than 20% of women survive with late stage ovarian cancer.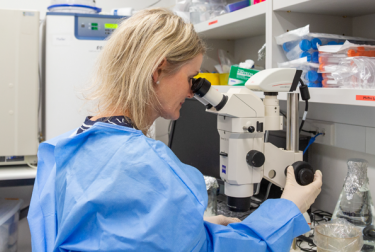 Janet says she got into ovarian cancer research as there was a real need to improve the 5-year survival rate.
She manages a team of 10 post-graduate researchers located at the School of Biological Sciences. She is a Senior Lecturer teaching a full course load in biotechnology, cell and molecular biology.
When she's not at the University researching or teaching, she's on her lifestyle property with husband Craig, dog Rosa, cat (Nessie), hens (Blanch and the Dixie Chooks) and an ever expanding sheep population – the drawback of being a reproductive biologist. She also finds time for long-distance running in the hills with her dog.
Unfortunately, changes to the screening programme that would have introduced HPV screening, have been delayed. This means women are missing out on an important but simple tool that will save lives.