When Cancer Society's regular volunteers aged 70 and over had to take a temporary break from the roles they love following advice from the Ministry of Health, the Cancer Society's Lions Lodge was one of the areas where their absence was most felt.
Supporter Helen Bell was one of the first to step up to the challenge when the Lodge put the call out for more volunteers to help ensure Cancer Society services at the Lodge could continue.
"The Lodge is so important," says Helen. "Some people have had their cancer journey impacted by Covid. The fact the Lodge can stay open so they're able to have a place to stay to facilitate the treatment they need is so important."
The Lodge provides a 'home away from home' for people who have to travel long distances for cancer treatment at Waikato Hospital. While Covid has meant changes at the Lodge, Helen insists morale is high among guests.
"One man said to me a few weeks ago 'This is like 5-star hotel!' and I had a chuckle to myself. People value not only the support and the surroundings but being able to socialise with someone going through a similar journey to them.
"You can see how important these interactions are when you see people chatting from opposite ends of the table at lunch. Some people are finding it difficult at the moment because they can't socialise like they used to, but it's so important that they can have somebody else to talk to."
Helen is a breast cancer survivor herself and has also cared for family members with cancer. These experiences led her to volunteer.
"I worked full time for an architect — ran the office, did the financials. We closed the office six years ago when my husband's sister was diagnosed with bowel cancer. I nursed her for a month before she passed away. She was only a year older than me.
"I said to Darrel, "why are we working so hard? Look at what's just happened?" Since then, I've become more heavily involved with the Cancer Society.
"I wanted to give something back because they helped me through a tough time, not just through my own journey but for my sister-in-law as well. If I had known about this years ago, when my mum and mother-in-law were both going through cancer, I think I would have started volunteering here a lot earlier than I did."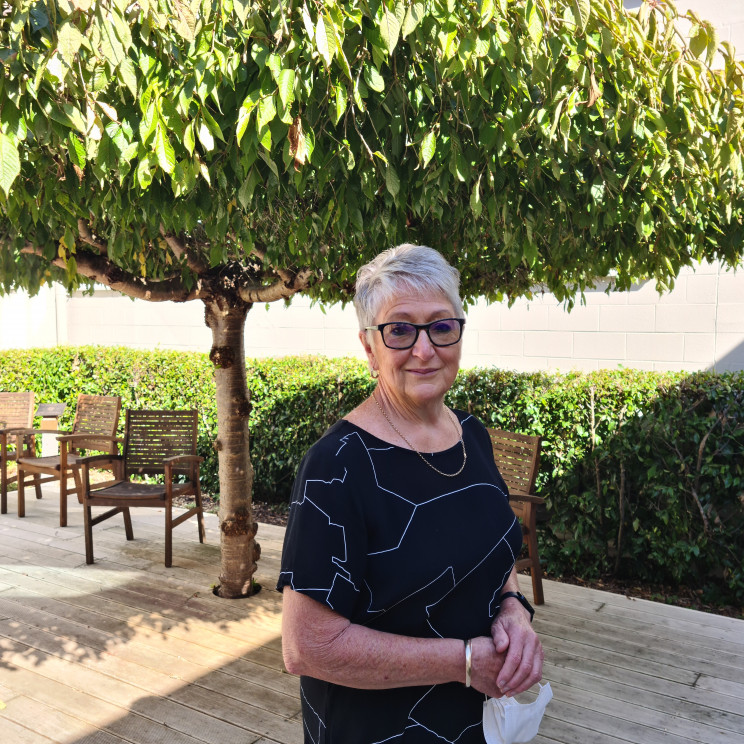 Helen volunteers one day a week at the Lodge, helping in the kitchen and during lunch service. But she's best know her for her home baking.
"I know the guests enjoy a bit of home baking and so I take some up every Wednesday. I went up to the Lodge yesterday with some ginger crunch and an hour later it was all gone!
"Baking is something I was brought up with. My parents were bakers, so I think I've inherited the gene — if there is such a thing.
"I feel very privileged because my granddaughter, Holly, who is 10, bakes with me on a Sunday. Some of it goes to the Lodge. A few years ago, we baked 700 pieces of shortbread up there!"
Helen also kept the Lodge supplied with biscuits, slices and cakes throughout the 2021 lockdowns and has volunteered her catering services for Cancer Society functions over the last six years. But in typical volunteer fashion, her altruism doesn't end there.
"Eighteen months ago I opened a popup shop in Hamilton with a couple of other girls and raised just over $8000 for the Cancer Society. It was worthwhile, but then of course Covid struck and we can't do anything like that now."
"Somebody said to me the other day 'You're such a giving person' and I thought no I'm not, I'm just me, doing something for somebody else that can make them feel better and bring a little bit of happiness into their journey."
Helen adds staff and guests are missing the regular volunteers during this time.
"A good percentage of the Cancer Society volunteers are over 70 and they do so much. The staff are filling in the gaps where possible because it's so important to keep the Lodge open and running for those people who need it.
"The guests are so appreciative of what we do for them and yet, having gone down that journey, I know how hard it is, going through what they're going through. They've got such amazing spirit."
About the Cancer Society's Lions Lodge
The Lodge is a welcoming home away from home, providing free accommodation and meals for people who need to travel long distances for vital cancer treatment at Waikato Hospital.
In 2021, the Lodge celebrated its tenth anniversary.
In its first ten years, the Lodge has provided:
106,424 nights' accommodation
319,272 nutritious meals served to guests
34,320 return trips to Waikato Hospital in the Lodge shuttle.
Some people have had their cancer journey impacted by Covid. The fact the Lodge can stay open so they're able to have a place to stay to facilitate the treatment they need is so important.

Helen Bell, Cancer Society volunteer