Most of us have spots on our skin. It's important to notice any changes in the size, shape, and/or colour of your spots or moles.
How is melanoma diagnosed?
If you see a new spot or a change in an existing spot or mole, it needs to be checked by your doctor or a skin specialist.
Your doctor checks the spots that have changed and do a general check of your skin.
They will use a handheld magnifying tool called a dermatoscope to look at the spot or mole and judge it by the "ABCDE" criteria:
Asymmetry
The spot has an irregular shape.
Border
The spot has uneven or scalloped edges.
Colour
The spot has different shades and colour patches.
Diameter
The spot is usually over 6mm wide across.
Evolving
The spot is changing and growing.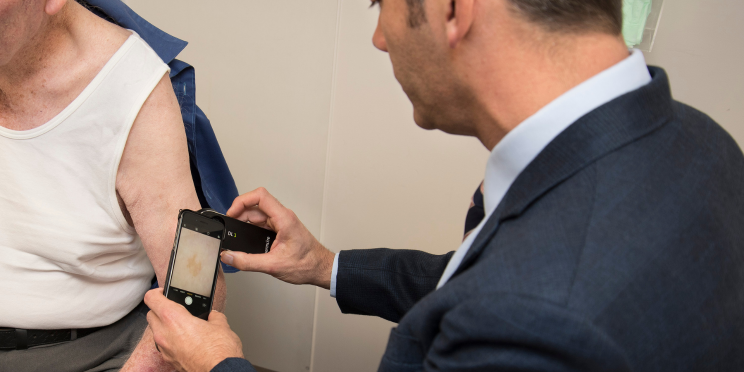 Your doctor will also ask if you or anyone in your family/whānau have had a melanoma or other skin cancer before.
They may also feel the lymph nodes (glands) in the area nearest your spot or mole to check if they are swollen.
Lymph nodes (also known as glands) are found throughout the body and are part of the lymphatic system.
Removing the spot or mole (biopsy)
If your doctor thinks a spot on your skin could be melanoma, they will want to remove the whole spot or mole to look at it under a microscope. This is usually quick and simple.
If the mole is in a difficult place to remove, or if it covers a large area, you will be sent to a specialist skin doctor or plastic surgeon.
After any test, remember to ask where and when you will get your results.
If melanoma skin cancer is found
If your test results show that your skin changes are cancer, you will need to have more tests to give doctors more information about the cancer's size and if it has spread.
Depending on your symptoms, these tests may include:
Blood tests
If you need surgery, your treatment team will test your blood to check your general health.
CT scan
A CT (computerised tomography) scan uses x-rays from different angles to make a 3D picture of inside your body and show smaller cancers than an x-ray.
PET scans
A PET (positron emission tomography) scan uses a radioactive glucose solution injected into your body that will build up in areas that may be affected by cancer.
Fine-needle aspiration
If you have a swollen lymph node, a needle will be put into the lump to check if the cancer has spread there.
Sentinel node biopsy
This is a biopsy of the lymph node closest to the melanoma to check if the cancer has spread there.
Stages of melanoma skin cancer
If your test results show melanoma, the cancer will be given a stage between 0 and 4.
Melanoma staging describes the cancer's size and if it has spread to other parts of your body.
Here is a simplified table of melanoma staging:
Stage
Definition
Early-stage
Stage 0
Abnormal cells are found in the top layer of skin, called melanoma-in-situ
Stage 1
The melanoma is less than 2mm deep and may or may not be ulcerated.
Stage 2
The melanoma is more than 2mm deep.
Advanced
Stage 3
The melanoma has spread to lymph vessels or lymph nodes.
Stage 4
The melanoma has spread to other parts of the body.
Staging the cancer helps your treatment team recommend the best treatment for you.
Early-stage melanoma is usually treated with surgery alone. Advanced melanoma will need more treatment.
After a diagnosis
If your test results show cancer, this can be a difficult time, and feelings can change from one moment to the next.
Everyone reacts differently when they learn they have cancer. There is no right or wrong way to feel.
Talk about your treatment options with your doctor, family and friends. Ask for as much information as you need. It is up to you how involved you want to be in decisions about your treatment.
Prognosis for melanoma
The prognosis is the likely outcome of a disease.
If the test results show melanoma skin cancer, you may wish to speak with your treatment team about the prognosis.
The doctors will look at the type and stage of the cancer as well as your age and general health to give a prognosis, but no doctor can predict the exact outcome for you.
Need someone to talk to?
We know that going through cancer is tough and can raise many questions. You are not alone.

We have nurses and counsellors to answer your questions and provide the support you need. Get in touch
Last updated: April 7, 2021