Changes in your breasts may be a sign of breast cancer and should be checked by your doctor.
How is breast cancer diagnosed?
Your doctor may suggest several tests and scans to check for cysts, tumours or other changes.
If changes are picked up during your regular mammogram, you will be sent for more tests or to a breast cancer specialist.
These changes may be from non-cancerous conditions, but it is important to check for the right diagnosis.
If you need more tests or treatment, there is no cost for this through your local public health service (DHB).
Ko te tikanga o te unuhanga, ka tangohia he tauira paku o te kikokiko mai i te `u ki te tirotiro mehemea kua puta he pūtau matepukupuku.
Mehemea ka whakaatu te unuhanga kua pā te matepukupuku ū, tērā pea ka whakahaerehia anō ētahi whakamātautau, Mātāwai rānei.
Whakawehetia ai te matepukupuku o ngā ū ki raro i ngā momo matepukupuku matua e rua: te ductal matepukupuku o te kiri in situ (DCIS) me te invasive matepukupuku o ngā ū.
Ka whakaahua te whakawāhanga i te rahi o te matepukupuku, ā, mehemea kua hōrapa ki wāhi kē o tō tinana.
Ka whakaahua te whakataumata pēhea te āhua o ngā pūtau matepukupuku.
Tests to diagnose breast cancer may include:
Physical examination
Your doctor will check your breasts and speak to you about your family/whānau health history.
Mammogram
A mammogram is an X-ray of your breast which uses a low dose of radiation.
Ultrasound scan
An ultrasound uses high-frequency sound waves to create pictures of the inside of your body.
MRI scan
An MRI uses magnets and radio waves to make a detailed picture of the inside of your body.
Biopsy
A biopsy takes a small sample of the abnormal cells to check if they're cancerous.

There are a number of ways to take a biopsy and you may need more than one type of biopsy.
Depending on the procedure, you will be given either a general or a local anaesthetic to help manage any pain.
Some people find this procedure difficult and may experience more pain than others. Talk to your treatment team before the procedure about any concerns you may have.
Types of biopsy include:
Fine needle aspiration
A very thin needle is placed into the lump and some cells are removed with a syringe.
Core biopsy
A needle is used to remove a piece of tissue from the lump or area of abnormal tissue.
Vacuum-assisted biopsy
A small cut is made in your breast and a needle is put into the lump. The needle is attached to a suction device that gently removes a small piece of breast tissue.
Surgical biopsy
A cut is made in your skin and the lump or abnormal tissue is removed. This is usually done under general anaesthetic.
Hook wire biopsy
If your doctor cannot feel your lump, a fine guidewire may be inserted into your breast to mark the area of the breast to be removed. The tissue is then removed under general anaesthetic.
If I was more prepared for my biopsy, I would have asked for an anaesthetic or more pain relief but I was told it was going to be only mildly uncomfortable.

Victoria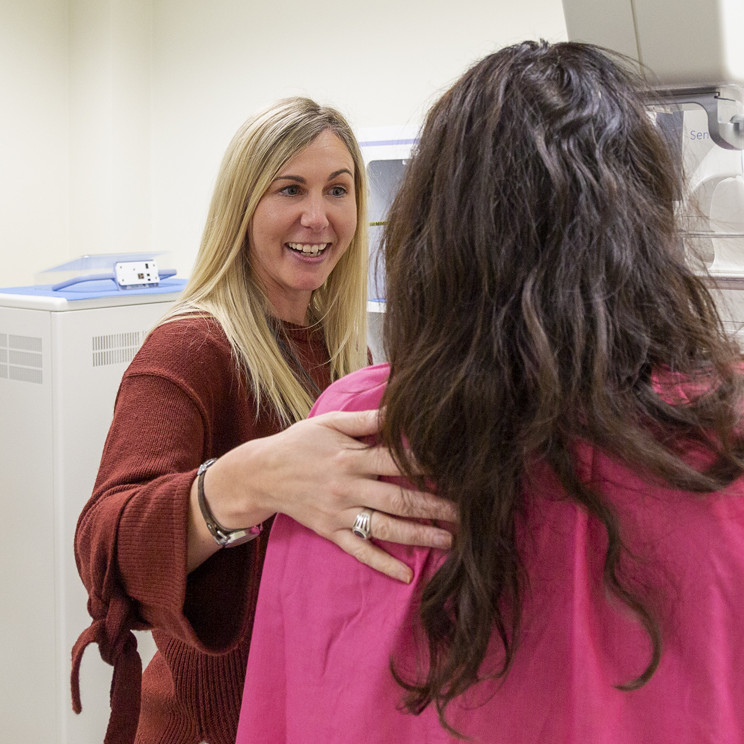 If any tests find that you have breast cancer, you may have more tests to learn what type of breast cancer you have.
These tests may include:
Hormone receptor tests
HER2 tests
HER2 is a growth factor protein that tells breast cancer cells to grow. Approximately one in five breast cancers makes too much of this protein, which means that the cancer is more aggressive. This is often called HER2 positive breast cancer. Two tests are available to check HER2–IHC and FISH. IHC is used first and if it is not a clear result then the FISH test is used.
If tests show that you have HER2 positive cancer, this will influence future choices of chemotherapy, hormones, or monoclonal antibodies. The most commonly used monoclonal antibody drug is called trastuzumab (Herceptin) which targets the growth factor protein.
What would you tell a friend who was expecting a cancer diagnosis?
We asked Linda to tell us what she wished she'd known before being diagnosed with breast cancer.
Video Link: https://www.youtube.com/embed/3jrAXLaJ2d0?autoplay=0&modestbranding=1&rel=0
After a diagnosis
If your test results show cancer, this can be a difficult time, and feelings can change from one moment to the next.
Everyone reacts differently when they learn they have cancer. There is no right or wrong way to feel.
Talk about your treatment options with your doctor, family and friends. Ask for as much information as you need. It is up to you how involved you want to be in decisions about your treatment.
Need someone to talk to?
We know that going through cancer is tough and can raise many questions. You are not alone.

We have health professionals to answer your questions and provide the support you need. Get in touch
Last updated: December 22, 2022